En
light

enments

Microsun-sized bits of information and news from the enlightened world.
Dr. Heath Gilbert is an Optometrist in Dayton, Ohio who graduated his Doctorate in Optometry from The Ohio State University and currently practices at the Dayton Optometric Center.  He has served as president of the Miami Valley Society of Optometrists and also consults with the Dayton Veterans Administration.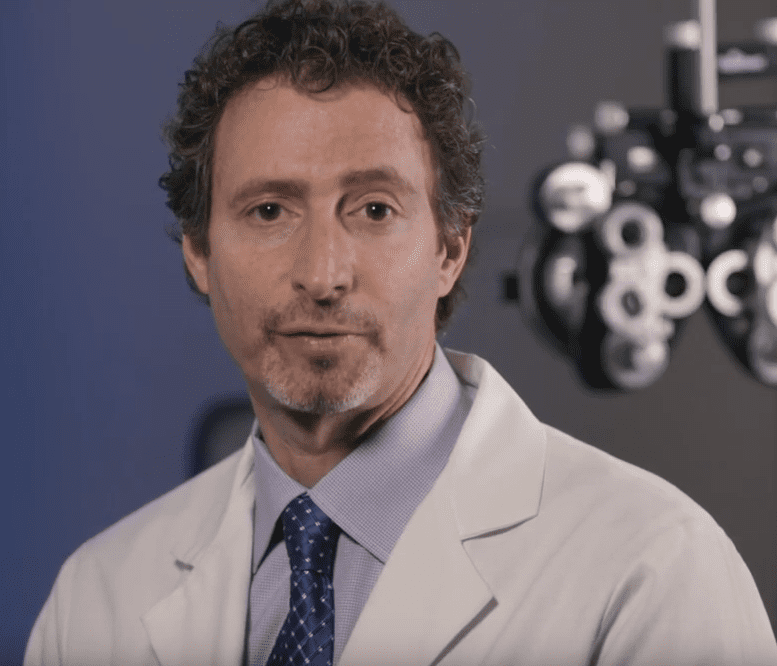 As we age, it is inevitable that we will experience some level of vision loss.  As an optometrist, Dr. Gilbert is very aware of the issues associated with those of us who live with vision loss. He has a Microsun lamp in his low-vision rehabilitation practice and sees his patients benefit from Microsun.  According to Dr. Gilbert, most patients who read an eye chart under a Microsun lamp  can see 1-2 lines beneath where they typically read with standard light. He also notes that people are better able to read even poorly printed materials like magazines, etc. under the clarity of Microsun light.
Watch the video above to hear Dr. Gilbert talk about age-related vision loss and Microsun light.  You can see the difference that 8x better, brighter light will make in your own home or office.  Like Dr. Gilbert's patients, you will also enjoy the benefit of improved quality of life when you choose a Microsun lamp.
The lamp shown in the video is a  Microsun Solis with swing arm extended, allowing brilliant Microsun light to be directed downward towards your paper, book, etc. for optimal lighting efficiency.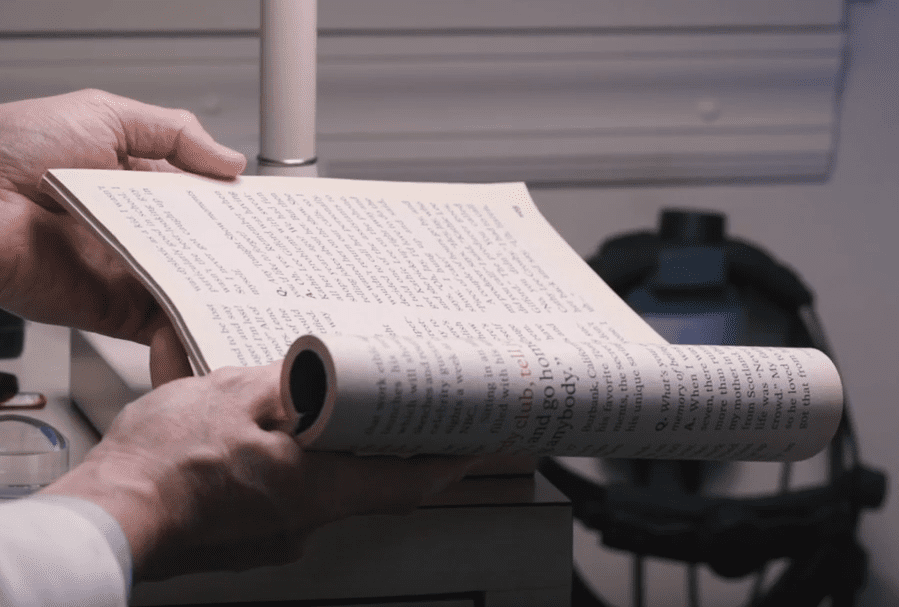 Since we were young, our parents have warned us to make sure we have plenty of light when we read.  As a child, I often disregarded that warning, choosing post-bedtime undercover reading by flashlight.  Back then, it wasn't a strain to read under poor lighting…
Dayton area optometrist Heath Gilbert demonstrates the brightness of Microsun light on reading materials.
However, as we age, it's time we once again listen to mom and dad who wanted us have the right light when we read.
Do your eyes get tired?  Are you fatigued and finding it hard to focus when you read for extended periods of time?  If so, then you need more light. We always recommend regular eye examinations and proper medical treatment; however, you will often see marked improvement simply by ensuring that you have the light you need.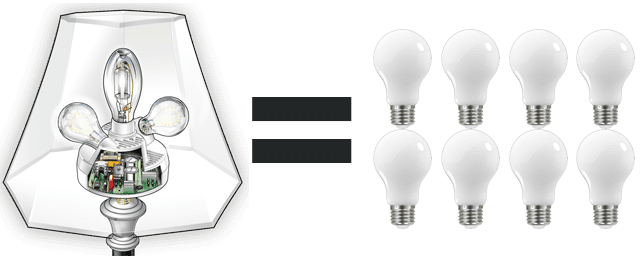 Microsun lamps are 8x brighter than standard lamps, optimized to help you do what you love for longer, with reduced eye strain and less fatigue.  Read longer, under better light with Microsun.
"Your lamps have dramatically improved my ability to read fine print in newspapers. Perfect."  -James S.
PREVENTING AND TREATING EYESTRAIN  Although eyestrain isn't permanent, it can be uncomfortable. The first line of defense against eyestrain is to have regular vision screening examinations to ensure that your eyes are healthy and also to monitor for vision changes….Wearing your glasses or contacts as directed and reading under better lighting conditions should resolve most of your eyestrain symptoms.

Source: Reading In Low Light May Harm Your Eyes : Silverstein Eye Centers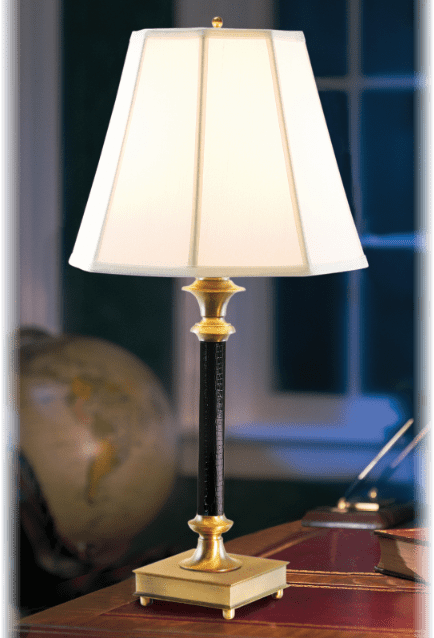 If you need more light, Microsun can help.   We have many different lamp styles to choose from, all with brilliant Microsun light.
Originally customized for the Library of Congress, this brass and faux leather design is our best selling desk lamp. Lamp shown in black.  Also available in brown faux leather or aged cherry hardwood.  We also have matching floor lamps.  
The light from a Microsun is a natural feeling as the sun itself, and you will find yourself being able to do what you love for longer, under better, brighter light!
Give us a call (937-552-2424) – We love to talk about our light!
Nora McFarlane is a long arm quilter and fabric artist who couldn't work without her Microsun Lamp. She's used an Ottlite in the past, but now wouldn't work without her Microsun lamp. She has two Microsun lamps in her studio, where she invited us to film. We met her through the Paducah Quilt Show where she wowed people with her innovative and beautiful works of art.
If you are involved in quilting, fabric painting, long arm quilting and you are looking for a way to reduce eye strain, get better color rendition and be able to thread a needle without a pair of readers, you will be much happier with a Microsun lamp. The Solis is one of our most popular lights for quilters, with a swing arm to help bring the light right over your work surface. The heavy base, makes sure that the lamp will not tip over. While an Ottlite may seem like a good choice, with it's "flexible" arm, you'd need 8 Ottlites to equal the output of a single Microsun.
Watch Nora compare the Microsun lamp to the Ottlite in this video
When it comes to any kind of crafting, Microsun will help you enjoy what you love for longer.