En
light

enments

Microsun-sized bits of information and news from the enlightened world.
David Crowell has been framing art since 1990. As a master framer, the craft of restoring old frames has become one of his specialties. When people say "they don't make them like they used to" he knows exactly what they are talking about.
Many of the ornate frames we see now and molded or machined with fancy CAD cutting tools. Old picture frames were hand carved and the beauty lies in their lack of perfect symmetry. For those with a discerning eye, or a love for antiques, the beauty of the old hand carved frame is as important as the art within its edges. Often times, when vintage art is brought in for restoration, the same goes for the frame. This is where Mr. Crowell finds the full spectrum high intensity output of the Microsun Solis a valuable addition to his toolset.
"Being able to see without strain, the clarity and contrast, make my work far easier, especially without the glare" was his first reaction to using a Microsun Solis on his workbench while restoring a 200 year old frame. His entire business is focused on the visual, from the preservation and presentation of art as well as the occasional creation of art. After seeing the difference the Microsun lamp makes, he's become a believer.
Before the Solis, he'd tried all kind of combinations of lighting fixtures and devices to illuminate his work space. After the addition of a Microsun, he realized how seriously under lit the space was.
If you are ever in Dayton Ohio, and want to visit his shop, Custom Frame Services is at 1029 Wayne Avenue in the South Park Historic District, right across from one of our favorite pizza places, Dayton's Original Pizza Factory (try the Buffalo Bacon Ranch).
For Immediate Release
Dayton Ohio: In a half page ad in the Washington Post today, Microsun Lamps of Dayton offered to provide the Oval office with one of their powerful reading lights. The headline "Maybe our President would read more if he wasn't in the dark" was a provocative entendre to open a discussion about the President's known aversion to reading, and Microsun's assertion that most older Americans are reading with too little light. President Trump, at 71, would likely find the true full spectrum light, that's optimized for older eyes helpful when reading overly long documents like the federal budget.
If the President takes them up on their offer, this wouldn't be the first Microsun lamp in the halls of government, their most popular lamp is called the "Library of Congress" and the lamps are actually in use there.
The output of a single Microsun lamp is the equivalent of eight 60-watt bulbs, yet only uses about 90 watts of electricity. Each lamp contains three bulbs: two LED full spectrum lamps on one switch, and the proprietary Microsun bulb in the center on a second switch. It's the center bulb that makes it "The light that rises", taking a few minutes to "rise" to full brightness.
The combination of the three bulbs provides more light in the wavelengths that most bulbs do not, and that are crucial for eyes of people over 50 who need more blue light to counter the yellowing of eyes with age. Most seniors find they can put away magnifying glasses and "readers" when using a Microsun lamp, and can read longer without eyestrain.
The company, which is celebrating its twentieth year in 2018, assembles and ships lights from their new 30,000 sq ft headquarters in Dayton where they have a factory showroom. Most of their sales are direct, from their website at www.microsun.com or via phone. All lamps come with a 30-day money-back guarantee, allowing their customers to try them at home without risk. Returns are a rarity. The company recently surpassed 100,000 units sold.
So far, no word on if President Trump will accept their gift. In the meantime, Microsun will continue on their quest to "Make America Bright Again" in 2018.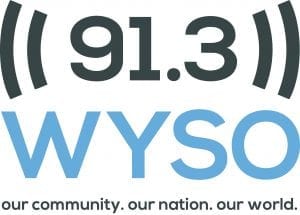 Yes, you might have heard about us on WYSO, but, weren't sure of where to go or what to look for online. You're at our site, feel free to browse and remember that all of our lamps are available with a 30 day moneyback guarantee.
Which ad did you hear?
Support for WYSO comes from Microsun Lamps, providing reading lamps designed and manufactured right here in the Miami Valley. When daily reading becomes difficult for eyes, Microsun lamps generate the light that can help. Learn more about Microsun's lighting technology at microsun.com. "Microsun. The light that rises."
Support for WYSO comes from Microsun Lamps. While there is no known cure for age-related Macular Degeneration, Microsun lamps can help aging eyes see more clearly. Microsun's full-spectrum reading lamps are built specifically for aging eyes and are produced in the Dayton area. Learn more about Microsun reading lamps at Microsun.com. "Microsun, the light that rises."
Support for WYSO comes from Microsun Lamps, creating lighting for homes and offices for overall visual health. Microsun lamps are developed with the intent to help improve visual acuity; and they are manufactured right here in the Dayton area. Showroom hours are 10 am to 4 pm, Monday through Friday. Learn more at Microsun.com. "Microsun. The light that rises."
All of those are true, and, you can come to our showroom and see the difference a Microsun lamp makes: 7890 Center Point 70 Blvd Dayton, OH 45424
Or, you can stop in and see our friend Kevin Harrington at Downtown Dayton Optical who swears by the light of a Microsun that you will see better with our light. He's at 112 E. Third Street Dayton OH 45402
Robert Oda at Edwards Furniture  in Springboro also has lamps on display, 800 W. Central Avenue, Springboro, OH 45066 and Denna Johnson at Johnsons Lamp Shop in South Vienna – 8518 E National Rd, South Vienna, OH 45369 would also love to have you stop in.
Or you can call us, and discuss which Microsun lamp is right for you. (888) 328-8701