En
light

enments

Microsun-sized bits of information and news from the enlightened world.
For Immediate Release
Dayton Ohio: In a half page ad in the Washington Post today, Microsun Lamps of Dayton offered to provide the Oval office with one of their powerful reading lights. The headline "Maybe our President would read more if he wasn't in the dark" was a provocative entendre to open a discussion about the President's known aversion to reading, and Microsun's assertion that most older Americans are reading with too little light. President Trump, at 71, would likely find the true full spectrum light, that's optimized for older eyes helpful when reading overly long documents like the federal budget.
If the President takes them up on their offer, this wouldn't be the first Microsun lamp in the halls of government, their most popular lamp is called the "Library of Congress" and the lamps are actually in use there.
The output of a single Microsun lamp is the equivalent of eight 60-watt bulbs, yet only uses about 90 watts of electricity. Each lamp contains three bulbs: two LED full spectrum lamps on one switch, and the proprietary Microsun bulb in the center on a second switch. It's the center bulb that makes it "The light that rises", taking a few minutes to "rise" to full brightness.
The combination of the three bulbs provides more light in the wavelengths that most bulbs do not, and that are crucial for eyes of people over 50 who need more blue light to counter the yellowing of eyes with age. Most seniors find they can put away magnifying glasses and "readers" when using a Microsun lamp, and can read longer without eyestrain.
The company, which is celebrating its twentieth year in 2018, assembles and ships lights from their new 30,000 sq ft headquarters in Dayton where they have a factory showroom. Most of their sales are direct, from their website at www.microsun.com or via phone. All lamps come with a 30-day money-back guarantee, allowing their customers to try them at home without risk. Returns are a rarity. The company recently surpassed 100,000 units sold.
So far, no word on if President Trump will accept their gift. In the meantime, Microsun will continue on their quest to "Make America Bright Again" in 2018.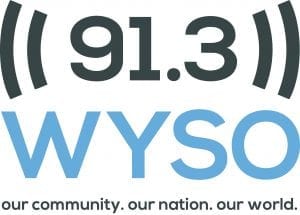 Yes, you might have heard about us on WYSO, but, weren't sure of where to go or what to look for online. You're at our site, feel free to browse and remember that all of our lamps are available with a 30 day moneyback guarantee.
Which ad did you hear?
Support for WYSO comes from Microsun Lamps, providing reading lamps designed and manufactured right here in the Miami Valley. When daily reading becomes difficult for eyes, Microsun lamps generate the light that can help. Learn more about Microsun's lighting technology at microsun.com. "Microsun. The light that rises."
Support for WYSO comes from Microsun Lamps. While there is no known cure for age-related Macular Degeneration, Microsun lamps can help aging eyes see more clearly. Microsun's full-spectrum reading lamps are built specifically for aging eyes and are produced in the Dayton area. Learn more about Microsun reading lamps at Microsun.com. "Microsun, the light that rises."
Support for WYSO comes from Microsun Lamps, creating lighting for homes and offices for overall visual health. Microsun lamps are developed with the intent to help improve visual acuity; and they are manufactured right here in the Dayton area. Showroom hours are 10 am to 4 pm, Monday through Friday. Learn more at Microsun.com. "Microsun. The light that rises."
All of those are true, and, you can come to our showroom and see the difference a Microsun lamp makes: 7890 Center Point 70 Blvd Dayton, OH 45424
Or, you can stop in and see our friend Kevin Harrington at Downtown Dayton Optical who swears by the light of a Microsun that you will see better with our light. He's at 112 E. Third Street Dayton OH 45402
Robert Oda at Edwards Furniture  in Springboro also has lamps on display, 800 W. Central Avenue, Springboro, OH 45066 and Denna Johnson at Johnsons Lamp Shop in South Vienna – 8518 E National Rd, South Vienna, OH 45369 would also love to have you stop in.
Or you can call us, and discuss which Microsun lamp is right for you. (888) 328-8701
Our customers love their Microsun lamps for reading. The increased light output and contrast makes reading easy. While reading makes them happy, it turns out our light helps make them happy too.
This article from the Mayo Clinic talks about the "winter blues" and SAD.
Those of us who live in northern states are no strangers to the "winter blues," which is a mild version of Seasonal Affective Disorder (SAD). About 15% of the population may struggle with winter blues. Studies have shown that nearly 10% of people in New Hampshire have been diagnosed with SAD, but it affects only about 1% in Florida, the Sunshine State.

SAD tends to be more common in women, young adults and those who work night shifts. It also has been found to run in families. SAD symptoms typically come on during the fall and winter months and reliably go away during the spring and summer months. Common SAD symptoms include:

Sleeping more, but not sleeping well
Feeling dragged out, low-energy and unmotivated
Craving junk or comfort food
Gaining weight
Losing interest in activities you once enjoyed
Not being able to focus
Avoiding social activities

While many of us experience these symptoms to some degree, when they become disabling or make it difficult for you to function, you should contact your care team. If you already suffer from depression, SAD can make your symptoms worse…

Whether it's the winter blues or SAD, here are some things you can try to lift your mood:

Open your shades to let in the sunlight.
Head outdoors on sunny days.
Include physical activity in your daily routine.
Adjust your diet to include floods that provide energy.
Make plans to stay connected on a regular basis with friends, family and other social supports.
Try light therapy.
Source: Winter got you down? You may be SAD – Mayo Clinic News Network
Light therapy isn't difficult, it's as easy as sitting down to read the morning paper at the same time every morning, next to your Microsun lamp. Tips for maximum benefit from the same Mayo Clinic article:
Set it at an angle to the left or right, at eye level or higher, and at about an arm's length away. Do not stare directly into the light.
Keep your eyes open while using it, and feel free to do other activities like reading or eating breakfast.
Start light therapy for 20-30 minutes each day within the first hour of waking up in the morning.
While there are lights marketed specifically as "SAD Lamps" many of them are truly single purpose lamps- emitting strange blue light. When you have a Microsun by your side it can help you craft, read, do crossword puzzles or just feel good in an extremely well lit room with true full spectrum light.