Did you know that as we age, we have more difficulty distinguishing all of the colors of the spectrum?
Colors lose their vibrancy, it become harder for us to distinguish between different colors, and slight color nuances become lost to our eyes.
Decreased color vision. Cells in the retina that are responsible for normal color vision decline in sensitivity as we age, causing colors to become less bright and the contrast between different colors to be less noticeable. In particular, blue colors may appear faded or "washed out."
Source: HOW YOUR EYES CHANGE WITH AGE
While this is a natural result the yellowing of the lenses in our aging eyes, we always recommend that the best eye health starts with regular eye exams and doctor visits.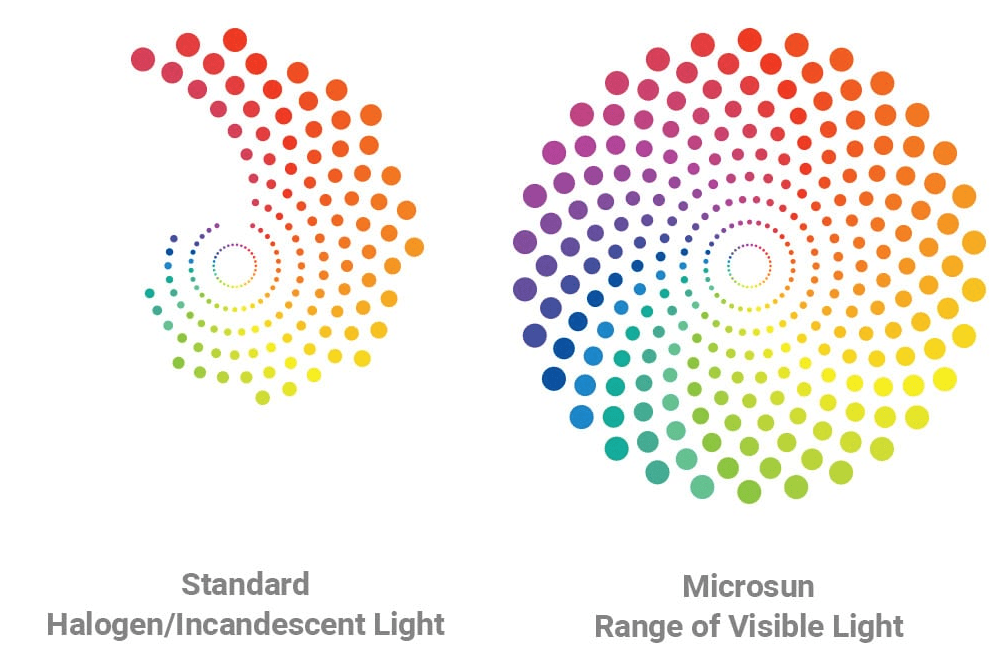 At Microsun, we've engineered our light with the needs of your aging eyes in mind, specifically addressing this issue of color rendition and clarity.
The light from a Microsun is designed to enhance the colors in the blue spectrum, enabling users to once again distinguish the full rainbow of colors with renewed clarity.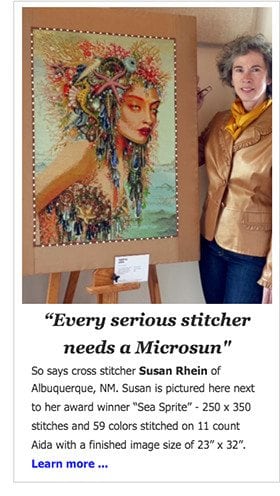 Color clarity is important to all of us, perhaps even more so to those with intricate hobbies such as model painting, sewing or cross stitching.
Susan from New Mexico is an award-winning cross stitch artist, often working ten or more hours a day to create her incredible projects.  The intricacy involved in cross-stitching often leads to eye strain and difficulty differentiating between the hues of the many thread colors.
Susan had tried many lamps and became discouraged over her need for more light, and then she saw an ad for Microsun, and that made all the difference.
Once Susan tried Microsun, she noted that the difference between Microsun light and those other lamps was "night and day."
Learn more about Susan HERE
Whether you are a hobby enthusiast, a crafter, love to complete jigsaw puzzles or enjoy reading your favorite book, Microsun light can help!  Choose your favorite lamp style and bring Microsun light into your home or office.  You'll see full spectrum colors with brightness and clarity, and you'll be able to do what you love for longer under Microsun light!  
We always have a 30-day money-back guarantee and our lamps are under warranty for 2 years, so you can buy with confidence.  Give us a call (937-552-2424) – we love to talk about our light!