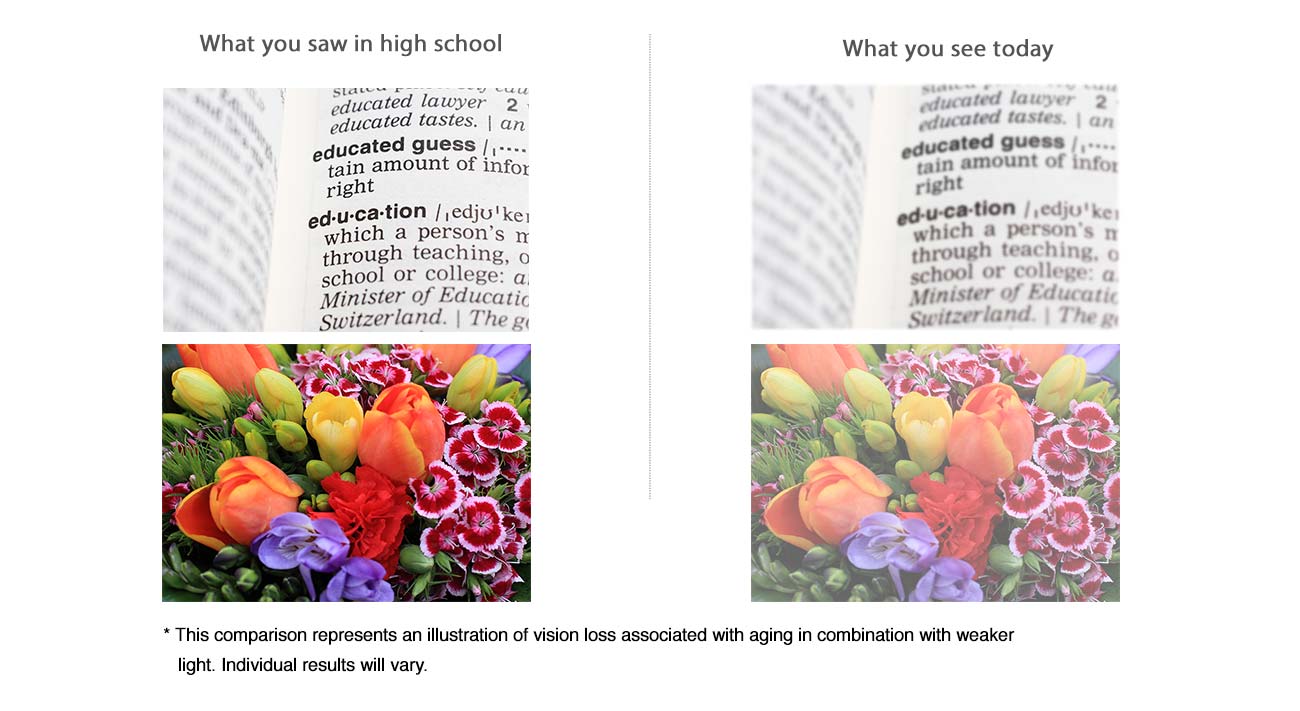 The Science of Vision…
Our patented Microsun lighting system combines full spectrum rare earth metals with proprietary LED's. The system is powered by an electronic processor that controls current to the light source, giving you:
SIX TIMES MORE LIGHT WITH LESS ENERGY
VIVID CONTRAST ATTENUATED TO THE EYESIGHT OF AN ADULT
SPECTACULAR RENDITION OF COLOR
UP TO TEN TIMES LONGER BULB LIFE
The 68 watt Microsun source yields more light than six (6) 60 watt incandescent bulbs.
A separate switch activates (2) LED Sunslim® bulbs–21 watts total–producing light equal to (2) 60 watt incandescent bulbs.
The Microsun and LED sources can be operated independently or simultaneously.

---
What the Experts are saying
Alan Lewis, O.D., PhD, is the retired President of the New England College of Optometry and an international authority on light and vision. We asked him to comment on testimonials from actual users of Microsun Lamps.
Ambient Lighting
Dr. Lewis: "Television Screens and computer monitors have influenced the way we approach ambient lighting.
We now recommend ambient and wall brightness that is at least 30% of the brightness of a computer screen or laptop. Additionally, overhead lights in the field of view, or reflecting from the screen can cause discomfort and fatigue.
Because Microsun lamps can easily be positioned so they do not produce direct glare, while still producing the needed illumination, they can provide a more user friendly atmosphere for watching television or working on a computer."
Vision and Aging
Dr. Lewis: After the age of 40, most people experience difficulty with vision. We have trouble focusing close up (presbyopia) and, because the eye becomes less transparent, even in-focus objects appear to have less contrast. Furthermore, due to the yellowing of the eye's crystalline lens, blue and blue green colors are reduced in intensity. Because the Microsun lamp produces more light in the blue and blue green part of the spectrum, we should experience enhanced perception of cool colors."
Glare
Dr. Lewis:  We require more light because of the loss of the eye's transparency and a reduction in the size of the pupil. Yet we're more sensitive to direct glare. Microsun lamps can improve light levels in the room without increasing glare.
---
[one-third-first]
The Quantity of Light We Need
Since we need more light and we wanted a more efficient light source, the Microsun system was designed to deliver up to six (6) times more light than ordinary light bulbs, enabling us to once again experience the full sensation of sight.
A Microsun lamp wakes up receptors in the brain — the atmosphere in our homes undergoes a "magical transformation" from dim and dimmer to vibrant and bright.
[/one-third-first]
[one-third]
The Quality of Light We Need
It should make sense that our eyes need a different "diet" of light as we've grown older. There are scientific reasons why Microsun delivers extremely precise wavelengths…not only do we need dramatically more light, but we need that light in specific wavelengths to compensate for vision loss.
Microsun fills in the gaps that result from our eyes filtering select wavelengths as we get older.
[/one-third]
[one-third]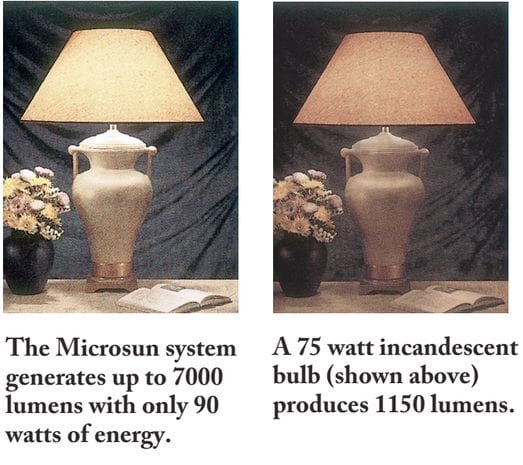 [/one-third]